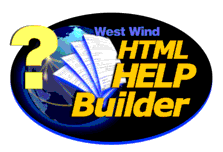 Video Tutorials
Note:
The videos are links to WMV screen video captures. The videos are recorded at 1024x768 resolution and must be played back in that resolution in order to be readable. If you use Windows Media Player to play these videos make sure you set the player to display at 100% or the display will be garbled. If you click the video links, they will start playing right away and stream down to you as you go given adequate connection speed - if your connection is too slow to stream or you'd rather just download, right click on the link and choose Save Target As to downlaod and save the file to disk and play it locally.
Help Builder Home | Documentation | Features | Screen Shots | Purchase
Check out Help Builder or pick up a few new tricks with these tutorial videos capturing operation of Help Builder. We just started putting these together and are planning to add more specialized videos as time goes by.

Introduction and Overview of Help Builder
(48 minutes, 26 megs - Streaming: 116Kbps) 2/1/05
Want to see how Help Builder works? In this first video Rick Strahl walks you through the base features of Help Builder in this 45 minute hands on video that demonstrates creating a new Help Project, adding new topics, creating content and formatting the content both in text and Html Editing mode, using Spell checking and Word integration, importing classes and databases and generating output Html Help 1.0 and 2.0 files.
VS.NET Windows Forms Help Builder Integration
(17 minutes, 10 megs - Streaming: 116kbps) 2/7/2005
This short video demonstrates how to build a help file and hook it up to a Windows Forms application easily using the Help Builder Visual Studio .NET add-in functionality. Quickly pusho Help Topics into Windows Forms controls and forms with the click of a button and and bringing up Help Builder in context of the current form or control. Finally the video demonstrates use of the custom HelpBuilderHelpProvider, that makes it possible to activate Help Builder in proper context from your applications at runtime.
.NET Developer Documentation features and VS.NET Integration
(12 minutes, 7 megs - Streaming: 116kbps) 2/7/2005
Check out the developer documentation features for .NET in this short video. This session demonstrates import .NET types and assemblies and further modifying the content imported. It also demonstrates the two-way editing features that allow you to update Help Builder topics from XML comments or to update the XML comments from an updated Help Builder topic.