Generating Microsoft Word Output
Often times you will want to create a Word document from your help file so you can provide your customers with a document they can print or otherwise work with more interactively than a help file. For example it might be nice to generate a PDF document for your documentation if you have a PDF converter installed.
Starting the Word Export Process
Start by clicking on the Tools | Generate MS Word Document menu option. If MSWORD is not your active scheme Help Builder will prompt you to select a template scheme.

The MSWORD scheme is a special template scheme that includes a HelpBuilderTemplate.doc file that is used as the starting Word document that receives the imported text. The scheme is optimized for display in a text editor like Word and provides much simpler templates. We recommend you take a look at what your topics look like with the MSWORD scheme and if necessary go and adjust your templates to what you might need.
Once you have selected a template scheme Help Builder starts generating your Word document. Help Builder's import works by generating a single HTML document (YourProject.html) and then importing this Html document into Word and performing a few fixups. Depending on the size of this document this process may take a while, so please be patient.
When the process is complete Help Builder will pop up Word and show your document: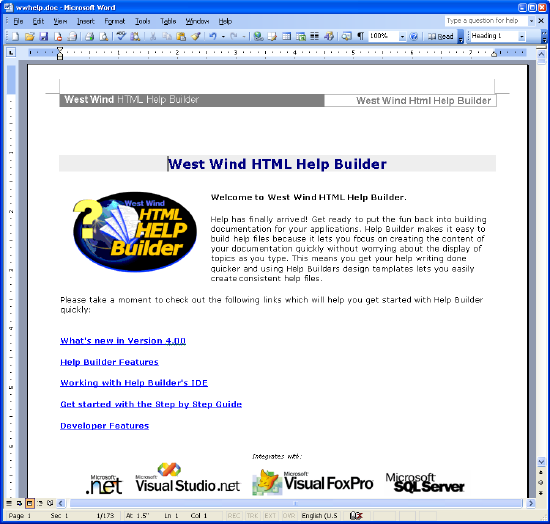 After the import is complete you might want to review the document. Although the process works well, there often are a few formatting issue related to page breaks or features that didn't translate well from HTML into plain text. In addition you might want to drop a table of contents into the document.
Note that images are embedded into the document and hyperlinks and cross links in the document are live and jump to the appropriate topics.
---

© West Wind Techologies, 1996-2019 • Updated: 01/18/16
Comment or report problem with topic